Ever since I started posting more vegan recipes, like this one and this one and this one... and since I started going to the gym regularly and working out with a trainer, everyone and their mom is asking me about protein. It's kind of a taboo topic! So I thought I'd list out some of my favorite protein-packed foods with their actual protein content per serving.
1 cup cooked quinoa: 8g
2 eggs: 12g
1/2 cup chickpeas: 18g
1/2 cup lentils: 8g
2 tbsp peanut butter: 10g
1/2 cup edamame: 11g
4 ounces wild-caught salmon: 29g
6 ounces Greek yogurt: 18g (though I've been avoiding dairy almost completely lately)
1 cup Silk almondmilk Protein + Fiber: 5g
1/2 cup pepitas: 6g
3/4 cup Cascadian Farm protein granola: 10g
Speaking of protein, I'm super excited to be able to introduce you to Cascadian Farm's newest product: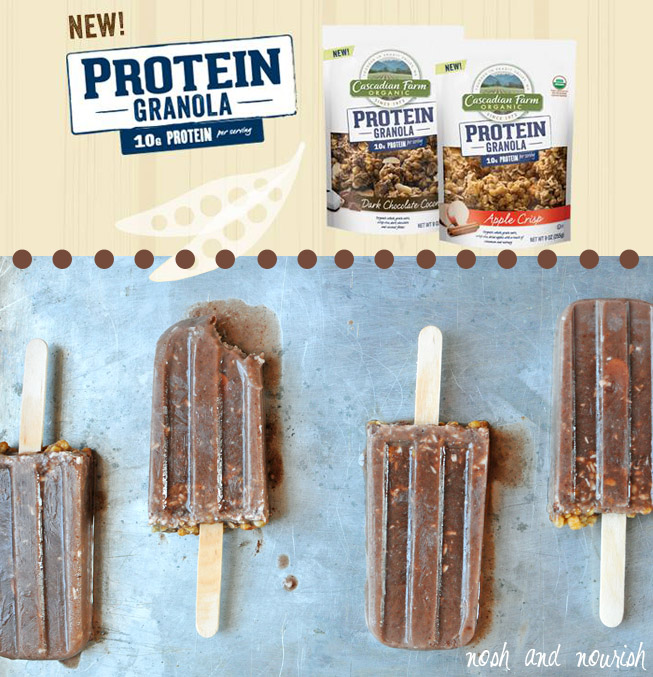 There's probably 1000 things to do with it, like eat it directly from the bag, pour it over Greek yogurt, top muffins with it as a sort of streusel (I'm soooo doing that soon!!), or add it to summer-pleasing fudgesicles. The granola is dark chocolate coconut flavor and touts its protein content, so I just amped up all those qualities in these popsicles. It's creamy chocolate is a combination of chocolate protein shake (I used Muscle Milk, but you could sub dark chocolate almondmilk) plus canned coconut milk and tiny coconut shreds. With 5g of protein PER fudgesicle and only 108 calories each, these are a great way to sneak in some extra protein in an absolutely DELICIOUS way!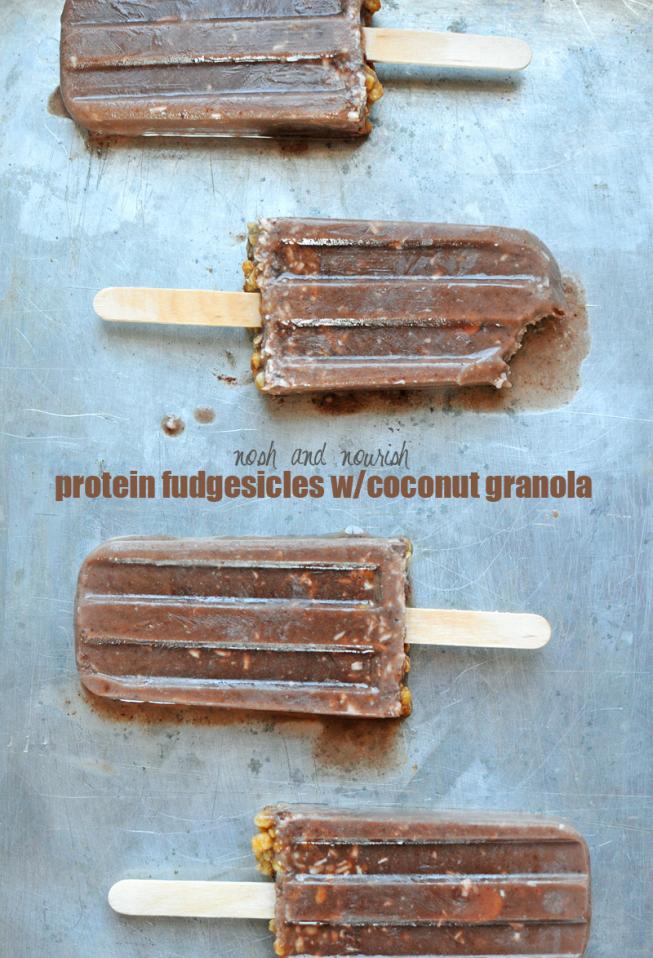 Click here to see the full recipe on Nosh and Nourish.